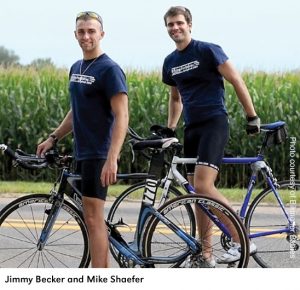 It all started when Jimmy Becker and Mike Shaefer began talking about their desire to do something meaningful that would have an impact on their community. The two University of Illinois students were both endurance runners, but they decided to go on an extended bike ride to raise money for a cause. Why bikes? Because they could cover more miles on wheels than on foot. 
As far as the cause? That was easy; they knew right away what the cause would be. Jimmy, especially, had taken to heart St. John Paul II's admonition that everyone should take action to change the culture of death into a culture of life and that each person should speak up for the dignity and worth of every human being. Together, the two young men saw this as their duty and as a fight worth engaging. 
And that is why, even as hordes of their fellow students headed off to sunny Florida for spring break in 2009, Jimmy and Mike set out on a chilly and overcast morning to spend their free time peddling 600 miles through Illinois. They saw this endeavor as a way to not only provide for the material needs of women facing surprise pregnancies, but also as a way to experience—albeit in only a small measure—the endurance and commitment pressed upon women and their families by the unexpected pregnancy. 
The two young men successfully completed the 600 miles, and they raised a whopping $14,000—the entirety of which they donated to a local pregnancy resource center. 
A movement is born
The following year, Jimmy and Mike invited a friend to join them on the bike ride. With that, the ride became an annual phenomenon, and Biking for Babies—B4B—was born. The following year, the ride went national when a team rode from New Orleans, Louisiana, to Champaign, Illinois, covering more than 1,000 miles in an eight-day period. Following that, the mission further branched out as teams biked to Chicago from Florida, Texas, and Louisiana. 
In 2017, the National Ride adopted a new form as four teams set out from the four points of a geographic cross on a US map: Green Bay, Wisconsin, from the north; Tylertown, Mississippi, from the south; Columbus, Ohio, from the east; and Holly, Colorado, from the west. After a week on the road, all four teams would converge in St. Louis, Missouri, where family and friends would meet them for an end-of-ride celebration featuring live music, inspirational speakers, and lots of food and fun in celebration of life and a job well done. 
To comply with COVID-19 restrictions, the 2020 ride was modified to keep the riders within the state of Wisconsin, but for 2021, the ride was again national, and four teams comprised of 40 riders and 10 support crew logged 2,700 miles for the benefit of 42 pregnancy resource centers before converging again on St. Louis for the annual end-of-ride celebration. 
A ride, not a race
Biking for Babies sees riders and support crew as missionaries because everything they do is about spreading the pro-life mission—one mile, one life, and one task at a time. 
The annual ride is now structured, with applications due by the end of February. Then, from March until National Ride Week when everyone hits the road in July, participants meet virtually at least once per month with one of B4B's spiritual formation directors for prayer, Bible studies, and other exercises that help them focus on the mission. During that time, they're also busy raising funds. And of course riders are also training physically.
Each team consists of around six to eight bikers and two to three support crew members. During the weeklong ride, everyone is up by 4:00 am and out the door by 5:00. Then, for the next 10–12 hours, they're on the road, where they will cover an average of 100 miles a day. 
Ideally, bikers don't have to do anything beyond pushing their pedals because their support crew handles everything else: navigation; weather watching; scouting ahead for road hazards; managing spare tires, tubes, pumps, and first aid supplies; keeping everyone hydrated, fed, and sunscreened; and handling whatever other unanticipated matters arise. Even though teams travel closely together, everyone is also tracked via a GPS-tracking app.
Through contacts with PRCs, churches, and other parachurch organizations, the B4B leadership team prearranges lodging along the route. At each day's end, the support crew will launder clothing so that everyone will have fresh clothes bright and early in the morning. In addition, the crew also serves as first-line cheerleaders for its team, continually reminding everyone why they're on this adventure and keeping them focused and energized for finishing the course. 
Growing, changing, committing, bonding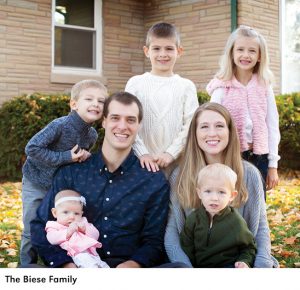 In 2018, the organization took a huge step forward when Nikki Biese came on as executive director and B4B's first full-time employee. Her history with the mission traces back to 2011, when she met one of the founders at a church event and signed up her boyfriend Kevin to ride from New Orleans to Illinois. 
Raised by devout Christian, pro-life parents, Kevin had never heard of a pregnancy resource center, but he was excited to join the riding team. However, on his first ride, he suffered a heat stroke and vowed never to do it again. But when he went to deliver his modest $2,000 check to the Women's Care Center of Madison, Wisconsin, his heart was so moved that he became a B4B lifer. He remembers: "They showed me the ultrasound room, the Crib Club (where moms shop for free baby supplies), and the counseling rooms. I was dumbfounded by the beauty, the authentic love and care that was put into the design of that building and that was shown by the women who worked there. By the end of the tour, I cried and was so moved that I continued to ride for the next five years."1  
In 2013, Nikki and Kevin married, and Nikki took a job with a major corporation. When they found themselves expecting their first child only a few months later—and despite the fact that they had the full support of their families—they felt fearful, nervous, and excited, all at the same time. 
Nikki explained: "So, Kevin and I trusted what we knew and visited a PRC. I got to feel what expecting [mothers] feel as they walk into these centers. We took a pregnancy test, which officially confirmed the future. The entire process was filled with respect, love, information, and active discussion with all parties. The only thing that was different in my situation versus the many others who visit these centers was the fact that I had outside support during my unexpected situation. Others are not so fortunate, but in fact, have family members narrowing their options and not approaching the situation with love. This experience fully cemented in our minds that Biking for Babies is not just a summer ride but exists to provide the support these centers need to lift up women and their babies."2 
In 2018, soon after their third child was born, and even as Nikki was in line for a promotion, Kevin had a different idea. Standing together in their kitchen one day, Kevin suddenly asked: "What if you become the executive director for Biking for Babies?" Nikki responded: "I would do that in a second."3 
And she did. Nikki proved that success means different things to different people, as she fundraised her own salary, resigned from her corporate position, and left the "successful," higher-paying career behind. (To give you an idea of how the Biese family's life and ministry mesh, Nikki gave birth to their fifth child on Day 1 of the 2021 National Ride.)
The enduring missionary-PRC connection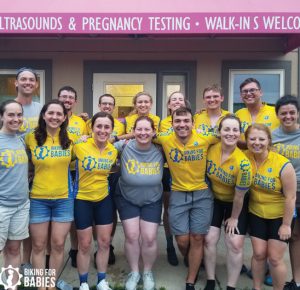 The missionary-PRC relationship is central to Biking for Babies. In a similar vein to the way Kevin got hooked once he visited the Women's Care Center of Madison, B4B missionaries not only often return year after year, but they also serve all year long as outreach evangelizers for their PRC partners at home, and they rally the community to support them as well. 
Biking for Babies envisions a world where women don't have to make choices out of fear or convenience but feel empowered to make choices out of love and purpose. Pregnancy resource centers provide many services free of charge: counseling, ultrasounds, cribs, diapers, formula, and sometimes even rent money or maternity home stays to support women through their pregnancies and beyond with parenting classes and other follow-up support. And B4B missionaries supply them with funds to help keep it all going. 
In 2021, Biking for Babies  missionaries collectively contributed $200,000 to pregnancy resource centers, bringing the total funds donated over B4B's 12-year history to more than $1 million. 
With more than 25,000 miles pedaled since its inception, Biking for Babies  is a ministry born of love, nurtured throughout the year with education and faith, and brought to the world with compassion.
To join this movement, visit bikingforbabies.com/national-ride. 
---
1. "Putting Your Mouth Where Your Money Is," Biking for Babies, May 24, 2021, bikingforbabies.com/putting-your-mouth-where-your-money-is.
2. Nikki Biese Bio, Biking for Babies, August 28, 2020, bikingforbabies.com/nikki-biese.
3. Ibid.
Facebook Comments