Eighteen-year-old Rachael Vance fights for the voiceless every day and has done so for most of her life. Her involvement in the pro-life movement began when she was a young girl, and she now spends her days encouraging other young people to follow that same path.
Rachael, who has been homeschooled since the first grade and is currently finishing her senior year of high school, says that being homeschooled has given her many opportunities to learn about the pro-life position because it's not something that is normally taught in public schools. The youngest of five children, Rachael says that being raised in a devout Catholic family has helped her live her faith, as throughout her life she has attended pro-life rallies, banquets, and the March for Life. According to Rachael, "My family's commitment to preborn babies helped to cultivate a personal love and desire to be a louder voice for the voiceless."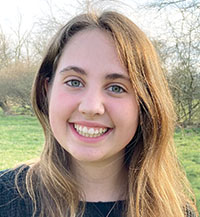 Rachael understands the value of each and every human being and is willing to speak out in public to educate others. She believes it's crucial for young people to have the moral courage to speak out so that they can properly defend the pro-life position, which she believes is what God calls us all to do.
And speaking out is something Rachael has done for many years. When she was just 14 years old, she attended her first Justice Ride with an organization called Created Equal. Created Equal is an anti-abortion organization that focuses on leading public outreaches to expose the truth about abortion and raise up the next generation of leaders for the pro-life movement. Founder Mark Harrington used the Freedom Rides of the 1960s as inspiration for the Justice Ride—a weeklong educational trip for high school and college students to advocate on campuses, in downtown areas, and outside abortion clinics for the rights for preborn babies.
Since her first Justice Ride, Rachael has gone on the trip every year. But last year when Rachael's brother, Gabriel, began an organization called Catholics for Life (see the article in this CLM issue), she felt called to help him and now serves as its outreach assistant. In this role, she takes part in training and street outreach events where she mentors young pro-life activists. Rachael also leads sidewalk counseling efforts in front of Planned Parenthood where she not only prays for moms and their babies but talks with them and offers support and advice.  
While doing street outreach, Rachael uses the acronym "SLED" to illustrate her pro-life position. "SLED" stands for size, level of development, environment, and dependency. She teaches that, regardless of whether a person is born or preborn, old or young, big or small, and no matter what their ability, everyone is unique. And she stresses that these differences do not determine our value as human beings.
One of Rachael's favorite stories while sidewalk counseling is about a mother she met outside a Planned Parenthood facility. As this woman was walking out of Planned Parenthood, Rachael spoke to her and gave her some information about other options to help her and her baby. She asked the mother if she could walk her over to the Women's Care Center across the street because they offer free ultrasounds and pregnancy tests. As the two walked to the care center, the woman shared with Rachael that she was from New York and didn't know many people there in Ohio. When the woman later exited the care center, she again spoke to Rachael and thanked her, telling her that the center was very helpful and gave her lots of great information and resources.
Though she doesn't know what the woman ultimately decided, Rachael showed her that even though she didn't know many people in the area, there were lots of people who loved and supported her.
Rachael told CLM that sometimes it is difficult to speak out, but she encourages other teens to learn how to talk about abortion. Her advice to teens about how to defend their pro-life position starts with prayer. She says, "Praying for God's grace is the most powerful thing we can do." Through prayer, she states, God gives us the grace to be bold.
She says that education is vital as well, and that is one of the goals of Catholics for Life. As its outreach assistant, Rachael helps her brother create and distribute educational pamphlets that they hand out on college campuses and in front of abortion facilities. She is also involved with helping to train other volunteers.
But being pro-life isn't only speaking out against abortion; it's about valuing the lives of all human beings. As a homeschooled student, Rachael understands the importance of pro-life education and has even used several CLSP lessons, including Pro-Life Citizenship and No Greater Love: Saint Maximilian Kolbe. Recently, she completed our lesson entitled Without Mercy: An Introduction to Euthanasia, Assisted Suicide, and Other Threats to the Medically Vulnerable and said it enlightened her about the evil reality of euthanasia and helped her gain the courage to stand firm in her beliefs.
Armed with her real-life education and the lessons that she's learned, Rachael hopes to continue God's work with her brother because she believes "the pro-life position is the only position that gives all humans undeniable equal value, no matter what their differences are" and that "we have value simply because we are human."
Facebook Comments