The surprising thing about downsizing is that your children and friends don't want your stuff. Our granddaughter Cece helped me place candlesticks, lamps, and some of my original amateur paintings into this week's giveaway pile. She must have noticed my solemn mood when she cried, "I don't want you to move!" Tears flooded her big blue eyes. "I like your house."
"What will you miss most?" I tried to hide my grief by confidently pulling Cece into my lap. We'll never again let baby goldfish loose in our pond or build sprawling forts in our basement.
"The blanket with the red roses," she whispered.
I snatched the tattered comforter out of the donation pile and hung on tightly to this cherished four-year-old. I had already outlived my mother and grandmother. I'm determined to be a lively grandmother, giving Cece the best of whatever future I have left.
So when I received a call from the transplant office, the nurse's question stunned me: "You're the best match among our applicants. Would you like to continue the process?" I froze. My mind raced with objections as I tried to grasp the news. I didn't want to donate a kidney! Whoever heard of a grandmother doing such a thing? My husband clearly didn't want me to. We were in the throes of selling our family home, and I had given away enough!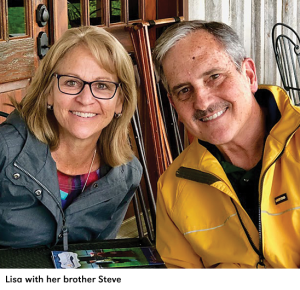 Finally, I answered the nurse, "Yes, I guess I'll take one more step."
When my brother Steve had told me he was on the waiting list for a kidney transplant, I applied to donate because our younger sister insisted we do so together. She was the willing candidate—and there might even be others. The next step I took was to rule myself out.
Realistic fears
As a group, we boomer grandparents are healthier and much more active than our own grandparents. We don't love our grandchildren more; we just love them more lavishly. Blogs, websites, associations, and best-selling books glamorize Nana and Papa. Trendy grandparents play sports, host multi-generation family cruises, and post dynamic photos on social media.
It's gratifying for me to be one of these vivacious grandparents. Cece adores me, my playfulness, and my sense of adventure. I am proud of my status and soak up the attention. I want to share the good life with her. I've earned this playtime. So when I faced a decision that would risk my vitality, protecting my energy for Cece had to come first.
My husband and I agreed that a thorough analysis in St. Louis would uncover some reason I couldn't donate. I went through the motions, never uttering aloud to friends or family members my status as "a perfect match." I didn't want to be guilted into doing something that would jeopardize a future I had worked hard to attain.
Prior to that impending trip for the physical in Missouri, Cece skipped along with me to my local lab for a blood draw. I didn't tell her our mission was to rule out cutting a vital organ from my body. It felt less worrisome to explain simply, "This might help my brother!"
Soon after, as our plane approached St. Louis, Cece and I giggled excitedly. I told her about the time Steve took his own dressed-up granddaughter to Forest Park, complete with their own little table, to hold a private tea party. That was over a year ago. There weren't as many parties lately.
During my visit to Steve's home in St. Louis, I noticed his restricted diet. He couldn't eat pizza, cheese, bread, fresh fruit, or even ice cream—our family's traditional treat. I agonized with him over his depleted energy. His wife and children missed his gusto, and time with his granddaughter was very limited. He needed a donor—and soon.
The results of my exam at Barnes Transplant Center shocked me. There were no deterrents to my donating! I was baffled at first, then afraid. Fear filled my mind. Will toxins slow my system? Will I end up being weaker from backache or infection? Will I still be able to do handstands in the pool with Cece? If I somehow did choose to donate, would I be telling Cece that I love my brother more than I love her?
I felt less than enthusiastic, and I found it difficult to tell Steve how resistant I was. Thankfully, he sensed my hesitation and offered generously, "You are always very loving to me and our family. I appreciate all you've done. There are other potential donors. I insist you withdraw your application, and we will explore other candidates."
"Okay," I nodded. I just couldn't commit to this. It was just too much. I told him to see who else might step up and that we'd talk again. I knew that at least my sister was willing, and I knew that the clinic could work with her as a moderate match.
I felt totally off the hook. My husband was relieved.
Second thoughts
Once again at home, Cece called me outside to her tree swing where I pushed her as high as I could. She soared through the air without burden. I too felt free, and I was hopeful for my brother's future. I then began to think about Cece's future and all the things we could do together.
Soon after, I planned a challenging paint project with Cece. I handed her a paint roller on a long pole. In our ambitious style, we slopped big, steel-blue ocean waves on the garage wall. An entire mural appeared, her clown fish staring up meekly at a great white shark. We had created a whole new, uncertain world together. I relished the thought that more opportunities like that would come!
One day, Cece led me toward the neighborhood swimming pool with a lively gait, and I followed with anticipation. She knew I would be surprised when she suddenly jumped into the six-foot side of the pool. She surfaced with a delightful grin.
"How brave you are!" I exclaimed.
"It's simple, Nana! Just hold your nose and go for it!"
"You sure make it look easy!" I responded.
Inspiration from a child
Unknowingly, Cece continued to remind me of Steve's need.
One of her favorite toys was snap-together block sets. As we played one day, she proudly showed off her latest construction. Her baby brother approached inquisitively. "You can have the pet store," she offered, as she handed it over to the little guy. "I have more shops than I need." Cece turned to me glowing, very proud of her spontaneous gift.
And then it hit me. I was holding onto mine. This young soul is brave and generous; I am not. Why was I grasping tightly to something I desperately wanted to keep but probably don't need? What if I let go? Don't I have more to offer Cece than impressing her with my youth?
So I prayed. I talked to others. I discovered my options. I learned about scars, possible infections, and other side effects. The risk of health decline for me was extremely low. I allowed myself to feel deep admiration for my brother. Donors' words to me resounded in my head: "I'm so glad I did!" My soul began to recognize an opportunity.
My granddaughter looks to me to live large not to hide in safety. If fear ruled my life, I would never have become "Nana." I asked myself if I would hold back from my brother, clinging to extra for myself. Not if I wanted to be the courageous woman Cece thinks I am!
My husband reluctantly agreed that we were being called to take the gamble. I finally convinced Steve that I wanted to donate a kidney to him.
I'd be expected to have a lifetime of kidney function even after giving half away. I was the right candidate. My antibodies matched his perfectly. I felt ready to risk limiting my exuberant lifestyle in the hopes of increasing his.
For weeks after the donation I couldn't pick up Cece. We didn't ride bikes or ski together for the season. We did, however, draw and paint together. We created a driveway chalk village where she visited the virtual flower shop, library, and bank. "Come on, Nana, let's add an ice cream shop!" she said in her sweet little-girl voice. I smiled as I thought of Steve now feeling like new, enjoying treats with his granddaughters. 
I'll return to my spirited self in another few months, though I'm not certain what the long term will bring. It doesn't matter. Cece has a lot more than a physically active grandmother. She has one who oozes with gratitude over the miracle of giving life.
Recently, a class assignment led Cece to print a short story on lined primary paper. It now hangs above my tabletop easel. It says: "If I were a gift, I would be an art set in a box with really pretty wrapping. I would give myself to my grandma. She is a real artist."
I just love what that girl sees in me.
SIDEBAR
With everyone from doctors and nurses to the DMV encouraging organ donation, it is important for faithful Catholics to understand what the Church teaches regarding this issue. We know that we must respect the life of all human beings from the very beginning of life until death and that their death must never be hastened. So what does that mean for organ donation?
According to the USCCB's Ethical and Religious Directives for Catholic Health Care Services: "The transplantation of organs from living donors is morally permissible when such a donation will not sacrifice or seriously impair any essential bodily function and the anticipated benefit to the recipient is proportionate to the harm done to the donor."1
In addition, the Catechism of the Catholic Church teaches that "it is not morally admissible to bring about the disabling mutilation or death of a human being, even in order to delay the death of other persons."2
The important part to note here is that the donation of the organ cannot bring about the death of the donor. Yet the very nature of many types of organ donation requires that the organ be taken from a living body—someone declared "brain dead" by doctors—so that the organs do not stop functioning and are viable to transplant. This brings about the debate over brain death and whether that constitutes actual death (see article on p. 18 in this issue of CLM).
Paul A. Byrne, MD, penned an educational article about brain death in which he described the term and what the Church teaches. At the end of his article, he asks us to think about the following: "How can 'brain-dead' patients have normal body functions, including vital signs, if they are truly dead?" and "Why does a ventilator work on a 'brain-dead' person, but not on a cadaver?"3
The simple fact is that these patients are not truly dead.
Thus, while it is morally licit to donate organs that do not result in the death of the donor (e.g., a kidney or a lobe of the liver), removing the heart or other vital organs from a living donor will result in that person's death. It is never morally licit to hasten someone's death, even to help save someone else's life.
---
1. "Ethical and Religious Directives for Catholic Health Care Services," United States Conference of Catholic Bishops, 2009, usccb.org/issues-and-action/human-life-and-dignity/health-care/upload/Ethical-Religious-Directives-Catholic-Health-Care-Services-fifth-edition-2009.pdf.
2. Catechism of the Catholic Church Second Edition, St. Charles Borromeo, Accessed June 6, 2022, scborromeo.org/ccc/para/2296.htm.
3. Paul Byrne, MD, "Vital Organ Donation II," American Life League, accessed June 7, 2022, all.org/judie-brown-commentary/vital-organ-donation-ii.
Facebook Comments