In the summer of 2020, a father of eight saw his dream come to fruition when he began a pro-life podcast that would eventually lead him to host guests such as Fr. Frank Pavone, Alveda King, Governor Scott Walker, and Christian actors Nick Loeb and Ashley Bratcher.
Ohio native Jerry Cirino hails from a pro-life family and has always been passionate about pro-life topics. But as he grew, had children, and began seeing the culture of death take a stranglehold on the world, he felt that he must take a stand, become a voice for those who have no voice, and create a forum that would allow people to speak the truth about pro-life topics.
As Jerry told Celebrate Life Magazine, "The drive to be heard and to express my opinions and beliefs really was solidified over the course of years of being a father and wanting the best for my family and seeing the lies, the deceit, and the evil that is put out there by the normal media."
Early years
Jerry Cirino grew up in a devout Catholic family. He was the second oldest of nine children. As a child, he attended some of the Marches for Life in Washington, DC, and said his parents instilled in him and his siblings a love for babies and a respect for all human beings. He told CLM that he grew up with an overwhelming desire to right the injustices of the world.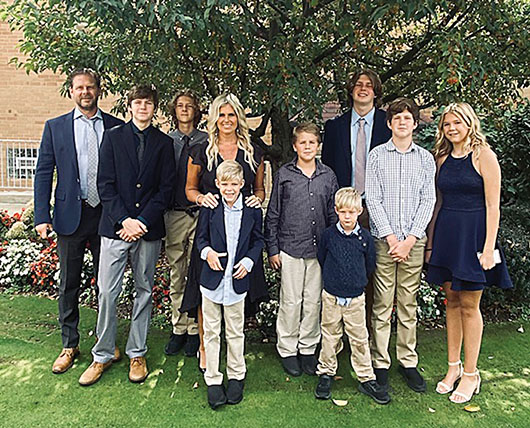 After high school, Jerry attended Cleveland State University, where he earned a degree in business. He later went on to earn his MBA from John Carroll University. He met his wife, Amy, at a Catholic retreat in 2000 and fell in love. A year later they got married. Today, they have eight children—seven boys and one girl.
Jerry worked—and still does—in the business sector. But he wanted and needed more.
Fides Podcast
Jerry told CLM, "I started my podcast in the summer of 2020 out of a passion for wanting to be on the radio and wanting to be heard, which was something that I had felt for a number of years but really never knew what to do with it. I've always been a listener and admirer of Rush Limbaugh and loved what he did and how he did it. Ultimately, I wasn't sure what to do or how to do it."
So Jerry contacted Molly Smith, who is the president of Cleveland Right to Life and who has her own podcast. After talking with Molly and receiving some great advice, Jerry realized he had found a new calling.
Always a quick learner, Jerry decided to educate himself about the process of beginning and running a podcast. He turned to YouTube videos and spent every spare minute he had learning the ins and outs of production, sound, equipment, and even how to find guests.
Within a few months, he had set up a studio in his home and began his new adventure. Then came the hard part—getting the word out to others and keeping a steady stream of guests who could talk about all aspects of the pro-life movement.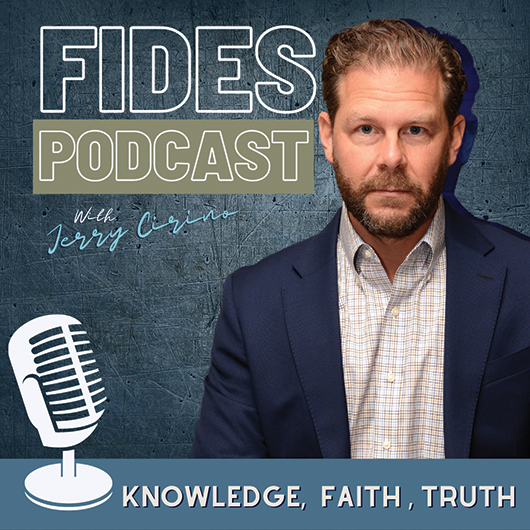 But find guests he did! As of this writing, Jerry has created over 150 episodes and typically produces two a week, which is a significant accomplishment for someone not even two years in the business.
In addition to the well-known guests such as Fr. Pavone and Alveda King, Jerry has had numerous other guests who make an impact in their communities even though the public at large may not know them. He states: "I've had so many guests of less-known status but extremely passionate people very, very excited about expressing their beliefs and opinions on pro-life and other issues, and I have just made so many friends and acquaintances through this podcast. I would've never believed it when I started because I had no idea how I was going to get guests or who would even be my next guest."
Jerry credits his success to God and believes his show has been successful because people want to hear the truth, they want hope, and they want to see the good guys win. As Jerry states: "Evil will not stop fighting, so we can't either."
He continues: "I might be a small little podcast, but we have to speak up because I think too many people on our side on the issue of abortion or other issues are too silent."
The future
Pro-life convictions run strong in the Cirino family. Jerry's father, Jerry Cirino Sr., spent most of his life in the business world, but upon retirement he decided he felt called to politics. He ran for and won the election as his county commissioner and served a few years in that position. Then, in 2020, he ran for the Ohio state senate and won handily. In addition, he serves as chairman of Cleveland Right to Life—an organization that piqued Jerry's interest as well.
So in addition to the podcast, Jerry has helped spread the pro-life message through his work for Cleveland Right to Life, helping out with a project called "Bringing America Back to Life"—a yearly conference put on by the group.
It is a fitting name, for bringing America back to life is what Jerry tries to do, not only with Cleveland Right to Life but with his podcast and within his community. He is passionate about reaching out to others to help them see the importance of standing up for the most vulnerable among us.
But it's not just the vulnerable among us that has Jerry concerned; it's us being vulnerable. It's our country being open to attacks by culture-of-death forces.
Jerry told CLM: "What people need to know and understand is that being pro-abortion is just another portion of Marxism. When we have this, we have a loss of freedom. We have a loss of religion, a loss of faith and belief in God. We have a loss of our personal choices in life, whether it's religious choice, whether it's speech, whether it's freedom of the press, or whether it's the presumption of innocence."
One of the main objectives of Jerry's podcast is to help us cling to the hope in Christ that we all so desperately need, and he sees this hope in the work of young people. He says: "The youth are some of the most passionate people I've seen on this issue. I've interviewed a number of people from the organization Students for Life, for example. These are young college students or recent college graduates who are leading this movement. It's really inspiring to see these young people acting in such a strong way. They're strong leaders even though they're so young."
This inspiration—along with a love of life, the strength of faith, and the understanding of the truth—is what Jerry attempts to impart to others via his podcast. For when the truth is silenced, when we fail to stand up for those who have no voice, and when we allow the culture of death to take over, we will lose.
But as Jerry encourages, "We have to just fight and never stop fighting."
And fight every day he does—faithfully through the Fides Podcast.
To listen to the Fides Podcast, visit fidespodcast.buzzsprout.com. To contact Jerry, email him at jerry@fidespodcast.com.
Facebook Comments