Bonnie and Billy Walker have raised 28 children: three biological, 24 adopted, and one they unofficially adopted. Bonnie is a passionate defender of children's rights who has dedicated her life to caring for children in need.
Bonnie has always wanted to be a mother. She used to tell people she wanted 10 kids but stopped sharing her heart's desire after enough people scoffed at her. When Bonnie got married at 17 years old, she felt ready to start her family. She was thrilled when she had her first daughter a little over a year later.
What followed was a series of events that left Bonnie broken, hurt, and hungering even more after the Lord and His children. Within 16 months, she had two more girls followed by four miscarriages. Still desperate for more children and knowing that she couldn't withstand the devastation of another miscarriage, Bonnie began praying for God's guidance.
"Be a foster parent," came God's answer through the voice of a friend. "No!" came Bonnie's reply from her fearful heart. She was terrified of how hard it would be to love a child and then let him go. But God kept pressing the idea on her heart until she finally relented. Bonnie and Billy decided to become foster parents.
A journey of love
Bonnie vividly remembers washing the hair of their first foster child: The water ran brown with dirt. She held back tears wondering how anyone could neglect a child so badly.
Shortly after that first foster placement, Bonnie had to have a hysterectomy. Her dreams of more biological children had ended, but her journey into fostering and adopting was just beginning.
Their next foster placement was two sisters, ages seven and 10. It was then that Bonnie was introduced to the shocking reality of how often siblings are sent to separate foster homes. She began to feel that God gave her an "extreme passion about keeping siblings together." Bonnie told her social worker, "Don't you dare break up siblings" and said she would take sibling groups, no matter the size. (Her largest sibling group was six children!)
Bonnie explains that keeping siblings together "is something we can control. We can't control what the parents have or haven't done or that they're not parenting like they're supposed to. But we can love enough to keep siblings together."
Those two girls were Bonnie and Billy Walker's first adopted children. Who could have imagined that there would be 22 more?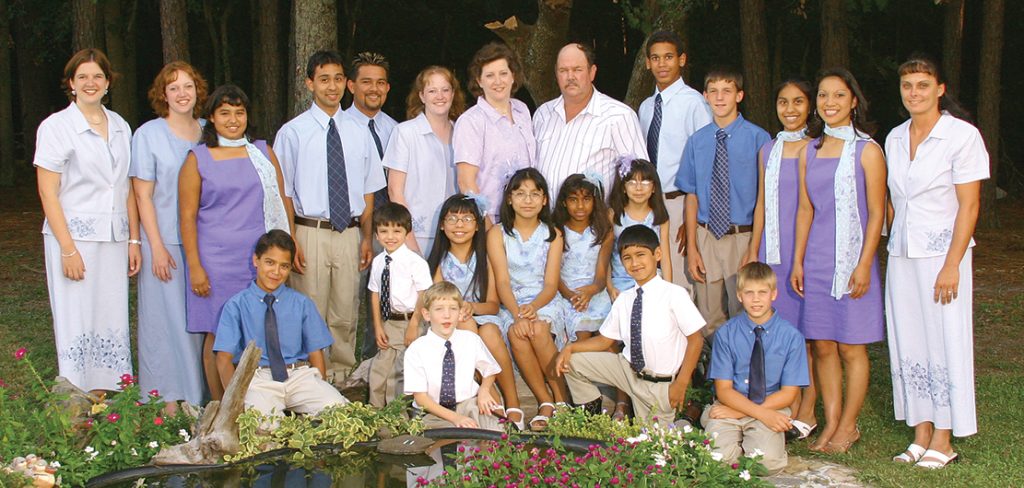 A love that multiplies
For a long time, Bonnie had a hard time explaining her burning passion to have more kids. Each time she had one, she rejoiced, but she knew she was called to have more. Of course, there were all sorts of naysayers telling her to be satisfied with what she had or saying that there was something wrong inside of her that she was trying to fix by caring for so many kids. Thankfully, Bonnie didn't listen to them. Her ears were tuned to the Lord.
God used a pastor from Uganda to tell Bonnie why she felt the desire for so many children. The Walkers hosted this pastor when his children's choir came to sing at their church. One day, Bonnie's pastors and this Ugandan pastor were touring her homeschool trailer. (Yes, Bonnie also homeschools all of her children!) The Ugandan man kept exclaiming, "I just can't believe it." Finally, he looked up at Bonnie's pastors and said, "You know she has a mother's anointing for the nations, don't you?"
Bonnie now had a name for what she had known all of her life: God had anointed her to be a mother of many.
And Bonnie believes that God is multiplying that mother's anointing across the earth. She sees God waking up His Church "gently and lovingly and creating a hunger that mirrors the hunger in His heart for these children." Bonnie has experienced that hunger firsthand and now feels called to share it with others.
Through her close walk with God and her experience parenting 28 children, Bonnie has learned that "when you get close to God, when you get in those intimate places with Him, that's when He reveals His great love for children . . . He loves their laughter. He loves their whimsical nature."
God has given Bonnie a portion of His own great love for children, and that love drives everything she does.
Bonnie has also taught her children about that love. When they first started adopting, Bonnie and Billy sat their three biological daughters down and told them, "Love only multiplies. You can't divide love. . . . God just continues to increase the capacity to love as you step out in faith." In this way, they assured their girls that they would continue to love them no matter how many other children they had.
And for those who say she couldn't possibly meet that many children's needs, Bonnie is in 100% agreement. As she explains, "I couldn't even meet all of one child's needs. We weren't made to meet anybody's complete needs. But my daily prayer is for God to take the five loaves and two fish of love in my heart and multiply that to feed and nourish and minister to just as many children as He ordained me to feed."
Creating loving bonds
So far, God has ordained Bonnie Walker to parent 28 children, but His calling doesn't stop there. He has also given her a vision of creating a foster adoptive community. She plans to call it the Refuge Ranch, and it will have 12 homes that foster and adoptive parents can lease. They'll have all the resources that children need to heal, including equine psychotherapy and counselors who visit regularly. And Bonnie will be able to pass on all the knowledge she's gained from her last 35 years as a foster and adoptive mother to others who share her calling.
If you're wondering if God is calling you to foster or adopt, Bonnie says, "Parenting is hard. It's wonderful. It's glorious. It's the most marvelous job you'll ever love, but it's the hardest job you'll ever have. It's not natural to take someone else's child and raise them like your own and pour everything within you into them. . . . And if it's not natural, all I can tell you is that it's supernatural. It's God!"
So, how do you know if God's calling you to foster or adopt? Bonnie answers, "This is how you can know: The devil is never going to tell a Christian to adopt a child."
In addition to her own parenting journey, Bonnie also walks alongside many fostering and adoptive families through her role as Director of Prayer for Ignite Hope, a ministry for at-risk kids. Bonnie leads its Hannah's Hope program that supplies prayer partners and other support to fostering and adoptive families. This is just one of the many ways that she sees God calling her to share her mother's anointing with others.
Writing is another way she shares this calling. Her inspirational books Refuge Ranch: A Story for His Glory and Refuge Ranch: The Glory Continues explain the love she has for all children. Bonnie is also currently writing a third book, and there is a movie in production about her life. The goals of her movie are to generate a million adoptions, issue a clarion call to the body of Christ that God has called us to care for orphans by opening our hearts and homes, and cultivate aware­ness about the need for better laws to protect, guard, and support children. Ultimately, Bonnie's ministry of fostering and adopting is her way of honoring the Father of the fatherless and heeding His call to care for orphans.
You can learn more on Bonnie's website (bonniewalkerministries.org) or on Facebook at "Bonnie Walker Ministries."
Facebook Comments