He didn't have his mother's eyes or his father's smile, but it was no secret that Dan Larson and his sister Barbara had been adopted. One lazy summer afternoon, when Dan was about seven, their parents called them in from playing outside and told them.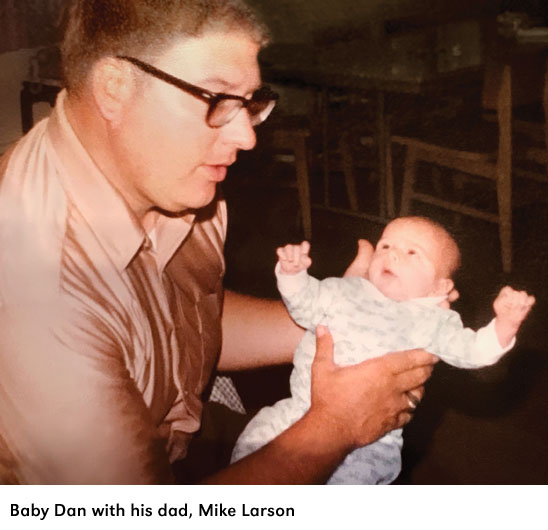 "We ran back outside to play and never thought much about it afterward because we had terrific parents, the best grandparents, and a wonderful childhood," explains the Sycamore, Illinois, man.
The adoption remained in the recesses of Dan's mind until years after his mother passed away. For his 40th birthday, Dan's wife and children presented him with a DNA test through Ancestry.com. The test showed Dan as a 99% match to a cousin, so he sent that cousin a message telling him a little bit about himself and asking if he knew of someone in his family who had placed a child for adoption.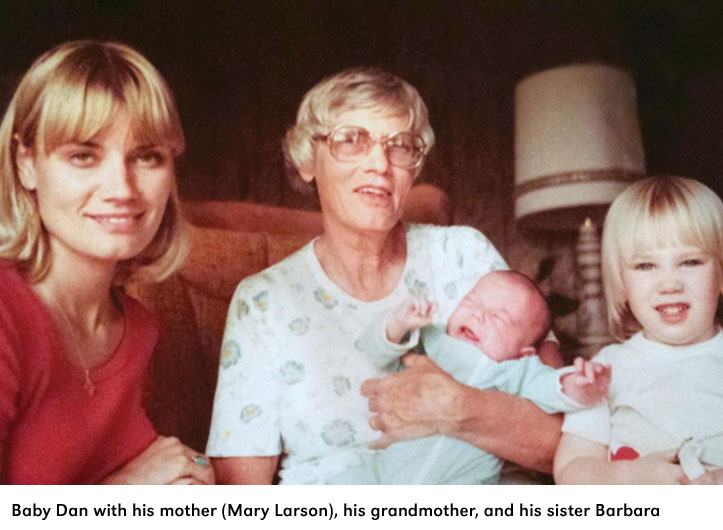 The cousin, David, told his mother about it, and she mentioned it to family at a New Year's Eve party in Fresno, California, where Dan's birth mother, Mary Kester, was present.
"David messaged me back," Dan remembers. "He told me to contact 'Aunt Mary' and gave me her number."
Unsure if he could emotionally handle what he might learn, Dan waited a week before calling Mary and leaving a voicemail.
"She called back immediately and said, 'I don't know if anyone told you, but I am your birth mother,'" he says. "It was so emotional for both of us. She was crying, and I felt bad she was crying. I told her that this was a wonderful thing, and I was so glad to talk to her, and I thanked her for giving me life."
Suddenly, Dan's family grew exponentially. He went from having one sister to becoming a member of an extensive Irish Catholic family with three half-siblings and many uncles, aunts, cousins, nieces, and nephews. Mary is one of 12 children, and a family reunion easily numbers in the hundreds.
Beginnings
Dan soon learned the story of his biological parents. Mary had met his biological father, "James," at a golf course in Illinois. The two hit it off immediately. She described him as more subdued and refined than she was, introducing her to Jazz, Blues, and the theatre when she was a diehard Classic Rock fan.
"We talked about getting married, made plans about spending our lives together, and then I got pregnant. He would not tell his parents, as they were very devout Catholics, and he didn't want them to know," Mary explains.
To save money, Mary moved in with one of her brothers. This allowed her to keep a low profile, stay out of the public eye, and carry her baby privately to full term. She and James continued to date, but he remained steadfastly against her parenting the baby. Mary could not imagine raising a tiny baby on her own, so she went along with James' idea of adoption, secretly hoping and praying that he would change his mind.
"I was dealing with a lot of shame for getting pregnant, so I continued to go along with what James and my parents wanted but still hoped I could keep our baby," she says. "I went through Catholic Social Services. . . . It seemed like the right thing to do by choosing a Catholic adoption agency, as I was Catholic. Abortion was not an option for me; it never was. It was legal, but I always wanted to have this baby, and I knew it never made sense to kill a child. I loved him from the beginning."
In her ninth month, Mary went into labor and continued to hope for a miracle that James would tell his parents and agree to raise their baby. It never happened.
"The social workers from CSS took Dan, whom James and I named Benjamin, right out of the hospital. My one consolation was that I knew he would be placed in a Catholic home. It was an open adoption, and we left our names in case Benjamin ever wanted to find us. I am not sure if he was given our names," Mary explains. "I had a three-day window to change my mind and take him back, and I begged James that we should get him on that third day, as I did not want to go through with the adoption. He insisted we were doing the right thing for the child."
Three weeks after Mary gave birth, she broke up with James. She still loved him but felt the relationship was over since they could not live as a family.
"I wanted my baby—our baby. I wanted to die. . . . Here I was trying to move closer to God, and I thought James would be the guy to help me do this," she remembers. "I was dealing with postpartum depression and dealing with the loss of my child. I finally moved back to California—where I grew up—to be closer to my family."
Finding each other
Mary eventually married her husband, Nelson, and together they have three children. When she heard at the New Year's Eve party that Dan was a match to David and was searching for his birth mother, she felt as if her heart might explode.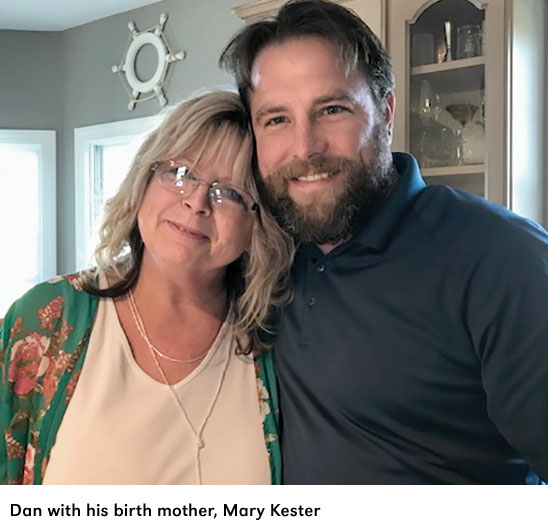 "I just up and told everyone that Dan was my son and ran into the kitchen sobbing," she recalls. "All I felt and what I didn't know I felt came up and out of me. I was howling with joy and sorrow at the same time. I could not stop crying and was thanking God, but the pain and shame came back simultaneously. I sobbed for six hours with all my family watching me. We pulled up his photo on LinkedIn, and I knew right away that he was my boy. He had my smile and looked like my side of the family."
When Mary finally spoke with Dan, she said the love of God and the love between a mother and child came back to her full force. She explained that God transformed the loss and allowed her to receive the love she buried deep within her soul.
"He called every day, and we got to know each other over the phone for a while, and five months later, I flew to Illinois with one of my sisters to meet him," she recalls.
The initial visit went well. They met at a restaurant and talked for hours. Soon, plans developed for Dan to fly to Fresno to meet the rest of the family, and while he felt immediate acceptance and love, Dan admitted it was a little embarrassing.
"I did not expect this red carpet to roll out to welcome me. I felt like I didn't deserve all this love and attention," Dan explains. "There was nothing wrong, but I was not used to all this love from so many people. I was grateful and thankful."
While Mary wishes she could have been part of Dan's life from his infancy, she rejoices in the fact that he was fiercely loved and that he had a great childhood with myriad opportunities.
Raised Catholic, Dan attended school at St. Mary's in Sycamore, Illinois, participated in sports, spent time with his grandparents, and began working for his father's stone quarry business when he was 10. He now spends a lot of time with his father, who struggles with dementia.
"My family treated me like everyone else, but as a kid, I sometimes felt it wasn't fair that my friends were out playing and I was cleaning rocks out of the vacuum," he says, laughing. "But I am so appreciative. I have had many great experiences, worked hard, played hard, and enjoyed the fruits of my labor. Now I get to go to the West Coast to visit the rest of my family. I am so blessed."
While Mary admits her story is not pretty, she hopes other women with an unintended pregnancy will open their hearts to adoption rather than seeing abortion as their only option.
Dan says he is immensely grateful that Mary chose to sacrifice for him and place him for adoption. "I would tell a young mother that I was so fortunate and not to be afraid to put your baby up for adoption. I am the luckiest person on the planet. So many people want babies, and Mary could have easily aborted me if she hadn't been Catholic or didn't believe that giving me life was important. How wonderful my life has been!"
"The Lord gave my son back, and I am so grateful," Mary says. "I always want to tell girls in high school that they . . . can give their child the gift of life and the chance to smile in someone else's home. It makes no sense to kill a baby, not ever. There are so many people who can't have a baby, and this is a great gift to them."
Facebook Comments