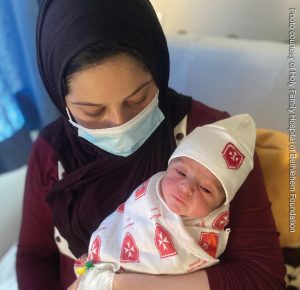 On the holiest of nights, door after door slammed shut in the faces of the Blessed Virgin Mary and her loving spouse, St. Joseph. Imagine the mounting anxiety Our Lady must have felt not knowing where she would deliver the Savior. No expecting mother should face rejection in her greatest hour of need. 
Understanding this, Holy Family Hospital in Bethlehem—located just 1,500 steps from Christ's birthplace—offers medical care to every mother without exception.
A pro-life, Catholic teaching hospital run by the Order of Malta, Holy Family treats Christian and Muslim women alike. It also delivers babies free of charge if a family cannot afford to pay. 
Bethlehem, the most Christian governorate of Palestine, is also the poorest, and it has the highest unemployment rate because of job scarcity. The hospital subsidizes the cost of birth, even asking the more fiscally stable parents to only pay half of the hospital's fee to avoid financially burdening them.
Ambassador Michele Bowe, president of the Holy Family Hospital Foundation and the Order of Malta's ambassador to Palestine, spoke with Celebrate Life Magazine about this amazing facility. She stated: "In a way, I see our hospital as paying reparations to the Holy Family for the suffering they endured."
"Birthplace of Hope"
Ambassador Bowe calls the hospital a "Birthplace of Hope" because every newborn is the embodiment of hope. She elaborates: "Jesus came to bring us hope, and babies bring all sorts of different kinds of hope."
Bowe adds that Holy Family also embodies hope because it employs 181 people. She continues: "If you were to walk inside the hospital, you wouldn't know what was going on outside—the Palestinians say suffering [caused by the impact of COVID] is worse than 1948 when almost a million people were displaced." 
Despite hunger and unrest, there's still great joy at every delivery. 
Mary watches over the NICU
Holy Family Hospital serves an area of one million people and delivers approximately 70 percent of Bethlehem's babies, including babies from nearby desert villages and refugee camps. According to Ambassador Bowe, that equates to nearly a dozen babies per day, and the hospital has delivered approximately 93,000 babies since 1990. In addition, Holy Family is the only hospital in the Holy Land with the capacity to deliver and care for a baby born before 34 weeks. Women travel to have their babies delivered there because of the hospital's exemplary reputation for good birth outcomes and fewer maternal complications. 
"We have outcomes for these babies like you would never see at other hospitals. Medical professionals can hardly believe that our doctors can save a 23-week baby in a place like Bethlehem," Bowe says. "Yes, we have good equipment, and we have great training, but we also have a 16-foot-tall statue of the Blessed Mother perched on the roof of the chapel looking right into the NICU [neonatal intensive care unit]."             
Holy Family's infant mortality rate for 2020–21 is at about 2.6 deaths out of 1,000 live births—a number up about one percent compared to previous years due to premature births and babies with low birth weights because of the COVID lockdown. In contrast, according to the CDC, the United States' infant mortality rate for 2020 was roughly 5.7 deaths per 1,000 live births.1
Further, maternal mortality is almost nonexistent for mothers who deliver at Holy Family. In 2012, the hospital lost one mother. Compare this to New York City, which according to the New York State Maternal Mortality Review Report, had a maternal mortality rate of 18.9 deaths per 100,000 live births between 2015 and 2017.2 The national average is only slightly lower at 17.4 percent, states the CDC's report on 2018 statistics.
Ambassador Bowe shares: "I was once riding in a car with a well-trained and extremely thoughtful doctor. I was telling him some of the statistics, and he said, 'I think you probably need to get one of those guys from the Vatican to open a case on Holy Family Hospital miracles.'"
And there have been many miracles!
Dawlat's miracle baby
Dr. George Zoughbi, head of Holy Family Hospital's neonatal department, shared with Celebrate Life Magazine a miracle that took place two days before Christmas 2017. While making his morning rounds, Dr. Zoughbi learned that a baby boy, born at just 23 weeks, was dying. The family, in consultation with the attending neonatologist, decided to provide comfort palliative care.
"He was cyanosed, motionless with barely audible heart sounds, and weighed just under 1.5 pounds. Almost 90 minutes after the reported birth, I held a death certificate in my hand, heading to the bed of the newborn [who no longer had a heartbeat]. . . . At the patient's bedside, I heard gurgling sounds," he shares.
Underneath the blanket lay a tiny baby, thought dead, yet now attempting to take a breath. 
"I remember reflexively grabbing a breathing tube and intubating the baby. The entire ICU team subsequently mobilized to this patient's bedside, initiating full life support," he says.
Dr. Zoughbi recalls the baby's mother, Dawlat, asking him: "Wasn't my baby dead?" 
"I remember answering her perplexedly that the boy somehow decided to breathe!" he says. "What happened that day was [nothing] short of being a miracle."
After a complicated five-month stay in Holy Family's NICU, Dawlat's baby was discharged home on supplemental oxygen. Dr. Zoughbi recently learned that the miracle baby is walking, talking, and no longer needs oxygen. 
"I still vividly recall the circumstances that day, and all I can think is that life is a truly precious gift from God, and we ought to preserve it."
Reaching the community
Another contributing factor to Holy Family's success is its dedicated Mobile Outreach Clinic. This van goes out daily with an obstetrician, gynecologist, nurse, pediatrician, and a driver to serve nearby villages and refugee camps in the desert. The mobile unit, outfitted with state-of-the-art medical equipment, offers OB/GYN services, including pre- and postnatal exams, lab tests, and gynecological/cancer screenings. Young children and infants also receive treatment. 
The mobile clinic treats nearly 800 women and 1,200 children each year who otherwise wouldn't have access to medical care.
Holy Family also has a Well Woman Clinic, a Diabetes Clinic, and an orphanage. Administering to an underserved population, Well Woman offers menopausal and postmenopausal health services, screenings, gynecological surgeries, and cancer screenings.                           
"We opened this clinic because we'd noticed women, bringing their daughters in for prenatal care, hadn't seen a doctor themselves since their last delivery," Ambassador Bowe explains.
The Diabetes Clinic, launched in 2010, provides another crucial outreach, especially to mothers with gestational diabetes, which is rampant in the Bethlehem region. Gestational diabetes causes a whole host of problems, including congenital disabilities, preterm birth, and miscarriage. Plus, it jeopardizes the mother's health as well. The clinic's education efforts to teach proper diet and exercise have improved both mothers' and babies' health. There are now fewer babies from diabetic mothers needing NICU care, and their subsequent pregnancies are normal.
The BirthPlaceofHope.org confirms this, saying, "Approximately 80% of women treated at the clinic successfully manage their diabetes with proper diet alone, and are able to avoid insulin therapy."
Holy Family Children's Home
Near the Holy Family Hospital is its orphanage called the Crèche of Bethlehem. The Daughters of Charity of Saint Vincent de Paul operates the home, also known as the Holy Family Children's Home. It began in 1905 when the order started finding babies left on its doorstep. In the Arab world, an unwed pregnancy is dangerous for mothers and their babies due to honor killings. As a result, many women give up their babies out of fear.
Until 1985, the religious order oversaw the Holy Family Hospital, but the hospital closed due to financial difficulties. A few years later, Pope John Paul II phoned the Order of Malta—which currently runs hospitals and works in 120 countries worldwide—and asked if they would assist the Daughters of Charity in overseeing Holy Family. They did, and the orphanage reopened in 1990.
Today, the home offers a safe and loving place for babies and young children until they are adopted, placed with a foster family, or reunited with their biological families. "Our mission is to fight for the right to life of children, to guarantee a safe shelter and safe delivery for the babies and mothers," says the order's website.
Holy Family Hospital and its programs respect and care for women and babies in all seasons of their lives. We pray that other hospitals will use Holy Family as an example and uphold the culture of life as vigorously as this amazing facility in Christ's birthplace does.
---
Babies in Bethlehem
The devastating economic conditions exacerbated by COVID have put Bethlehem's mothers and babies at risk. Before COVID, 500 tour buses drove into Bethlehem each day. Now the streets are empty, and there are few jobs because the economy relies on tourism. 
"The middle class is selling off their belongings to pay for electricity and to feed their children," Michele Bowe, president of the Holy Family Hospital Foundation, points out.
Kristen Burke, development and community engagement manager for the Holy Family Hospital of Bethlehem Foundation, told Celebrate Life Magazine: "The hospital is a safety net for families to receive the very best healthcare, regardless of their ability to pay."
Through a unique program called Babies in Bethlehem, parishes, Catholic schools, and homeschool groups can help support mothers and babies at Holy Family. "Babies in Bethlehem brings the story of the Nativity to life by providing
a tangible way for a parish community to connect with our brothers and sisters in the Holy Land," Burke explains. "The program provides families the opportunity to raise funds for the hospital, so that no mother is ever turned away."
Through Babies in Bethlehem, children learn about Jesus' birth. They learn that, just as Mary and Joseph were frightened, in need, and sought shelter a long time ago, families still face these problems in Bethlehem today. 
As a special Advent program, in preparation for the coming of the Christ Child, Holy Family offers a way for families and entire parishes to get involved. It provides a toolkit of material that includes a curriculum, ideas for how to share information about the program, and a template for Bethlehem boxes that people can use to collect donations. 
Helping mothers prepare for the arrival of their babies is a beautiful way to prepare for Baby Jesus.
For more information on how your church and school can help, visit Babies in Bethlehem at birthplaceofhope.org/involve-community/#babies-in-bethlehem.
---
1. "First Data Released on Maternal Mortality in Over a Decade," Centers for Disease Control and Prevention, January 30, 2020.
2. New York State Maternal Mortality Review Report: A Comprehensive Review of the 2014 Cohort, New York State Department of Health, accessed September 10, 2021.
Facebook Comments