"There's still so much shame in unexpected pregnancy . . . which is so sad. When can we rejoice in pregnancy, no matter what it looks like?" — Susan Gallucci, executive director of The Northwest Center
It's just one house. Was Google Maps wrong? I expected a campus with rolling hills, not a three-story, six-bedroom townhouse in the middle of Washington, DC.
In 2020, The Northwest Center at 2702 Ontario Road, NW, in our nation's capital helped close to a thousand men and women with pregnancy. Facilities today include a floor where pregnant mothers receive options counseling and referrals to community resources. Upper floors house five expectant mothers ages 18-30 for an 18-month stay. The center and its clients' success stories show the nation that it is the depth of connection with families that matters in pro-life victories.
For 40 years, The Northwest Center has been a figurative house of light in a dark alley of Washington, DC. 
In honor of this anniversary, we want to celebrate with a look back at this charity's four-decade history.
Visionaries
In the early 1980s, the realization struck some Georgetown University alumni that there were few pro-life services for pregnant women in the DC area. Furthermore, they understood that the discovery of pregnancy often leads to homelessness for unwed mothers. "Generally, they [would lose] their homes," shares Kelly Marcum, director of development for the center.
One of two unaffiliated pregnancy centers serving the DC area, The Northwest Center houses single, expectant mothers and helps set them up for success. According to Marcum, "We're the only maternity home in DC that takes in women at any point of their pregnancy." 
This ministry shows the world that the pro-life movement is equally concerned with a mother's welfare and her baby's. From 1981 to present day, this center has become a surrogate family and an amazing resource to all its clients. 
Beginnings
In 1981, the idea for a center grew from a desire to hand out free pregnancy tests at St. Stephen the Martyr Catholic Church. If pregnancy tests were positive, the center would follow up with the expectant mother to discuss her options. Later in the 1980s, The Northwest Center advertised these services on the sides of city buses. Soon, the needs of its clientele outgrew the center's in-parish resources, and The Northwest Center's services for expectant mothers began to branch out. One part of the ministry continued to make pregnancy tests available and offer on-site options counseling, including connections to community resources, while the other part housed and cared for expectant mothers.
At first, these two ministries served women in separate locations. Options counseling took place at St. Stephen's, while host families of local parishes housed pregnant women. However, because several expectant mothers brought their other children with them, it was difficult for some host families to find the space for multiple people.
Over time and with more donations, staff set up new offices, and in 1996, they bought the rowhouse on Ontario Road. The community came together, renovated the property, and moved both ministry projects under the same roof. This community spirit has never left The Northwest Center. 
Invitation to all
The Northwest Center is no stranger to diversity. Today, where else would you find a theologian chemist, a former CPS worker, a former pro-life lobbyist who once studied counterterrorism, and a social justice chair in the same nonprofit? This top-awarded, small charity continues to thrive despite the pro-abortion influences that surround it, not to mention its operation on a tight budget.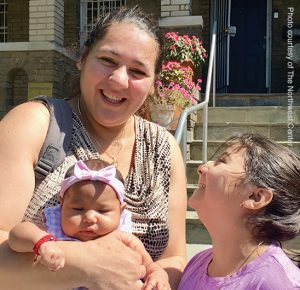 Marcum also stresses that the center is supported by specialized networks of volunteers that separate The Northwest Center from other charities. For example, in the spring of 2020, center staff contacted a volunteer who was a nurse and asked her to take the vital signs of the mothers so they wouldn't have to go to doctor visits during the peak of the pandemic.
Throughout its two-score history, one child at a time, this haven has ignited the flame of the gospel message. The Northwest Center brings flesh to Christ's promise "I have come to bring you life," and it brings it into the most unlikely of places. Since its beginning, The Northwest Center has created a non-judgmental space where expecting parents accept the challenges connected with a new baby.
Community networks
Community connection fuels the efficiency of the center. In 2020, center ministries touched 923 people: 373 women, 24 men, and 526 children. Over 1,200 individuals received "step up" counseling sessions to help them understand all options, local programs, and resources. Those in need of prenatal services, childcare, and educational programs received 1,364 referrals.
Just as impressive is the support of the center's neighbors. The center handed out 52,790 diapers, 35,903 infant and maternity items, and even 89 pack n' plays to help new mothers care for themselves and their children. With donations from local churches, this charity also supplies needy neighborhoods with complimentary paternity resources.
In the center's promotional video, one client explained his joy at seeing donations from the center given to the community. He states: "I come from a low-income Hispanic family . . . and I don't see any of those [other] charities come by. . . . But The Northwest Center is the only place . . . I can actually see people using the [donations]."
Offering hope
The maternity home continued its outreach to five expectant mothers and their infants in 2020. These women stay for up to 18 months at the center while social workers help them form action plans and create goals to support their new families.
This one-on-one maternity home makes The Northwest Center unique. Such encounters reflect how Christ ministered to people. He met them with no judgment yet was ready to bring out the best in each person. In the maternity home, the center has this same opportunity.
Also on the site's promotional video, another live-in client said through tears, "I didn't know there's a place like this. . . . I'm just glad that I can be positive, and my child could be safe . . . away from the violence."
For four decades, The Northwest Center has continued to spread the culture of life with its poster children of hope. Since the center's launch, its outstretched arms of mercy have embraced and helped over 59,368 individuals in the Washington, DC, area. Clients explain that the center not only counsels, it also supports and inspires its visitors. Center staff form service relationships with clientele by babysitting, running errands, helping write resumes, and more.
Mission momentum
The Northwest Center volunteers pour energy into the center and find their efforts returned a hundredfold. Loyal donors continue to meet the center's needs. Despite a two-year hiatus of fundraisers, the center, as Marcum says, "continues to serve." For example, when the boiler went out in February 2020, patrons raised funds to keep the heat on in the peak of the pandemic. 
"During the pandemic, operations did drastically change the way we met our clients' needs," Marcum continued. She told of contactless curbside material assistance pickups and how telephone appointments increased. In addition, fundraisers went virtual. During one such fundraiser, Brother Andrew, the winner of ABC's Great American Bake-Off Holiday Edition, donated a dessert he made via an online stream to a lucky drawing winner.
One of the many stars of this organization is executive director Susan Gallucci, LICSW. Since 2006, Gallucci, the 2016 Catholic Social Worker of the Year, has discovered the secrets of effective ministry and pro-life success. To Gallucci, pro-life is a lifestyle, and the clients are her surrogate family. She states: "If there's anything this pandemic has taught us, it's how to be there for each other in a respectful way. It's about making the call to a neighbor when you've made more than one lasagna and letting others know you can babysit while they take that quick shower or walk around the block."
Gallucci's measure of success is the visits from former center guests who donate items back to the center. When these populations give back, they harmonize with the facility's mission of self-sufficiency.
Share successes
The staff understands that the center would disappear without people's generous contributions. But above all, Gallucci asks for prayers. She regularly invites volunteers to join networks and to help with financial and material donations. However, she invites all to another challenge—the spread of her pro-life vision.
As Gallucci explains, "How do we gently talk about it, have dialog, and just listen even if we disagree? Nonjudgmental, emphatic listening is how we're going to create a culture of life where abortion is unthinkable."
The wisdom of The Northwest Center enlightens hearts. Together, pro-life supporters can serve women struggling with pregnancy, listen to their stories, and reach out with love and acceptance.
Facebook Comments