Thoughts of a former client worked their way to the surface of my memory recently. As an in-home caregiver of the elderly, this happens to me quite often. There's something mysteriously divine about caring for folks when they are in the vulnerability of their waning years. They long to share their stories, so they tell me everything, and I can't help but fall in love. This particular client's name means "star" in Latin, and she was truly a light in my life.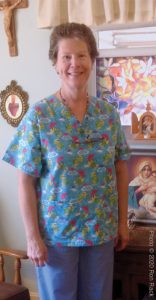 My client was also quite the entertaining character. From the very first time I walked into her house, she started bossing me around, but in a familiar and motherly sort of way. After hitting it off so well during my inaugural shift, she always lit up with a bright smile when I walked in the door, and said, without fail, "I'm so glad you're here!" 
In addition to lots of complaints, this client had a treasure trove of amazing stories. She was a Jewish woman with a rich history. I loved hearing about her birth family and her life as a young girl. My favorite reminiscence was about the time her family—and many others from the local Jewish community—went to meet her extended family at the airport. The travelers were fleeing from the German Nazi army's increasing occupation of European countries. In the eyes of a little girl (who was now this frail, elderly woman in my care), there was a huge crowd of people, with flowers, balloons, laughing, and hugging. Her uncle, with his long fluffy beard and dressed in short pants, was crying tears of joy to have his wife and children safely in America. My client spoke of his undying gratitude and love, which he spread to those around him for the rest of his life.
As far as the complaining, I got an earful of her favorite grievances over and over again. I didn't mind; I knew she just needed to talk, so I listened as if I had never heard any of it before. Then I redirected her to joy and gratitude. 
She also reveled in supervising my every move. Sometimes I would barely be in the kitchen for two minutes, working on her supper, when she would yell from the living room, "I'm waiting!" Once, I boldly asked her (after she had ordered me to put away my packed supper and find something in her freezer that I could eat with her) if this was what it was like having a Jewish mother. Her response was "Yes! Now shut up and eat!" I laughed and did as I was told. 
The hours I spent with this beloved client went by so quickly. Some of the places I go, I am (I reluctantly admit) occasionally bored and looking forward to quitting time, but never, ever, was I bored with my "starlight Jewish mother." We talked and baked cookies and went for wheelchair walks in the neighborhood. We watched Family Feud on TV and laughed at the dumb answers that the contestants would sometimes give. We enjoyed a couple of mini excursions. But mainly I sat in my chair next to her, listening to this sweet, lonely lady pour out her heart time and time again, reliving all the joys, sorrows, and memories of a lifetime, while carrying the cross of now finding herself part of the aged and infirm generation.
She was sometimes very angry with God and once informed me that He didn't care about her and had completely abandoned her. I said, "That can't be true. He sent me into your life." She was speechless for several seconds, then responded, "Well, you're right about that!" 
God had brought us together, and we were touching each other's lives in a powerful way.
In my job, I am repeatedly reminded of the beauty and dignity of the elderly and how one person can make a lasting impact on another. I believe we can receive this gift often, but we must always search for it, hearts open to love and to accepting the joy and the pain that come from such openness. It unquestionably happened to me with this beautiful Jewish mother of mine, my own treasured luminary. She shined her unique light into my life and became a falling star that I gratefully caught and that I will never allow to be extinguished. I truly believe that my humble endeavors of care and companionship will also shine in her heart for all eternity. And I hope that her story will inspire my readers to search out—and fall in love with—their own shimmering star sometime soon, before it leaves this earth. These stars are a gift from God just waiting to be caught!
Facebook Comments