EDITOR'S NOTE: The author wrote this article from the perspective of her daughter, Dina Samora, who shared her amazing faith journey with her mom.
---
"Oh, no, I'm expecting again! Not a good time to have a second child," I sighed. Already wallowing in despair after discovering my husband sold and used drugs, I fell deeper in after finding out about my pregnancy. 
Being a latchkey fatherless teen drove me to find a man to love me way before I could see the future of my decision. But I certainly could see it now.
Raised a church girl, believing in Jesus as my savior, and even rededicating my life to the Lord at 12 made this new way of life scary and foreboding. I hid the drug dilemma from everyone.
Bringing another child into the world during such a grim time in my marriage threw me into a deep depression. I tried to "lose" the child. Since I would never think of abortion, I started strenuous bike treks, jogged, dove recklessly into pools—any activity that could possibly cause a miscarriage. Nothing worked. I plunged further into despair as I felt the child moving in my womb.
One day while driving me home from a store, my Godly grandmother mentioned getting some baby clothes.
"Dina, considering you're six months along, how about shopping for baby clothes today?" asked Grandma. 
I twisted my long brown hair until it hurt. I didn't answer her. I couldn't talk about it. 
Grandmother and I were close. She helped raise me while my mom worked, and she knew me very well. She could tell I was in a dark place. 
"Dina, I am going to tell you something I never told another soul, but you need to hear it. When I was living in Alaska with your grandfather, I became pregnant with your mother. He was cheating on me and leaving me home alone for days with my first child, your uncle Paul. I did not want another baby to add to the problems I already faced. I searched the area for a doctor who would abort the pregnancy. In those days there were few doctors who would perform an abortion, especially in Alaska. I could not find one."
She started to cry (which Grandma never did!). She stood six feet tall, a strong blue-eyed daughter of an Indiana farmer; I never saw her cry. 
"If I would have aborted, I wouldn't have your mother, you, or your brother." 
She didn't need to say anything more. I always knew how much she loved me. Even though it was a difficult thing for her to verbalize, she showed it every day. She taught me how to live by the word of God and how to walk with Jesus. I knew what she was sharing with me—her very heart.
I broke. Emotions spilled inside and outside. Visions of my family—my grandmother, brother, mother, father, cousins, uncle—and all that they have meant to me filled my mind. I almost was not a part of them. 
My mother wouldn't have lived to become a dedicated teacher. My father wouldn't have met my mother or helped lead a family member of ours to Christ. My brother wouldn't have lived to start three churches. I wouldn't have lived to know my Bible college professor Uncle Paul, who in my future will honor me with a cruise to Hawaii for getting my PhD. My precious musically talented son, Chris, wouldn't be here. And what plan did God have for the child I carried? From that day on, I looked forward to the birth of my baby.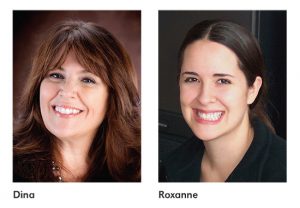 My beautiful baby girl, Roxanne, was born not long after; she is now in her twenties and is my best friend. Over time, and after many prayers, God worked a miracle in my husband and in me. I stayed with him and found what good things God had in store for our lives. I've witnessed my husband turn into a Godly man, father, and friend. Yes, it took time, and it was not without pain, but it happened.
Does God perform miracles? Absolutely! Our entire lives, marriage, and family are full of daily miracles—big and small. God wiped the dark place away with His light.
My children are believers, and my husband and I have ministries in our church. I found God faithful to His promise that if we commit our lives to Him—from whatever point we start—and acknowledge Him in all our ways, He will direct our paths.
Right words at the right time shared from the heart of a Godly grandmother affected my future, my marriage, my children, and many generations to come. I am forever thankful for my grandmother's love and compassion.
Facebook Comments